There are an astounding amount of all-wheel drives systems out there at this moment; Subaru Symmetrical All-Wheel Drive, Ford's Intelligent All-Wheel Drive, and Acura Super Handling All-Wheel Drive (SH-AWD) are just a few to be named. But none hold a more iconic spot than the Audi quattro system. But why is Audi quattro so signature? It all starts with the aspiration to put all-wheel drive into rally vehicles, something unheard of, and photo showcasing the end results.
First unveiled at the Geneva Motor Show in 1980, the Audi quattro began as the Ur-quattro; a boxy coupe with 200 horsepower, and the first AWD as well as turbocharged passenger vehicle. However, the idea for the quattro originated much earlier, with a 1970s military contract for a Jeep-like 4-wheel drive vehicle. The result was the Volkswagen Iltis, and its performance in severe and off-road conditions ensured the future of the quattro.
But even as the Ur-quattro debuted as a passenger vehicle, the rally version was in production, with lead rally driver Hannu Mikkola at the helm; by 1981, they had entered the WRC competition, but early issues such as low-rpm turbo lag, extremely new technology at the time, created some challenges for the quattro vehicle and Audi rally team. Mikkola even states that the turbocharger system was "Like nothing, and then it was like somebody hitting you." And other drivers were incredibly skeptical of the quattro vehicle, doubting the potential performance that we now take for granted.
Yet, even after all these struggles, the Audi rally team went on to take seven outright wins in 1982, in addition to four second-place finishes, taking the manufacturers' championship for German automakers. The following year, Mikkola managed to take the drivers' championship. The outstanding performance of the quattro with its AWD system meant manufacturers had begun playing catch-up, with the majority of competing rally cars in 1984 utilizing AWD systems as well. Audi had begun a whole new level of rally driving, all with the development of the quattro.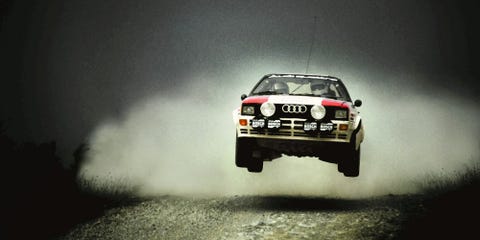 However, beyond the performance, the quattro was iconic for the moment captured below. Neither the drivers, navigators, or Audi overall can remember exactly which race this photo was taken at, but it will forever be the symbol of Audi rally performance.